Canadian Picture Pioneers 2017 Awards Dinner
Honouring the 2017 Canadian Picture Pioneer of the Year
and other Picture Pioneers Award Recipients
November 15, 2017
The Westin Prince Hotel,
900 York Mills Road, Toronto
FREE PARKING – Register your plate upon arrival.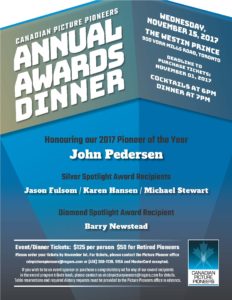 CLICK HERE TO DOWNLOAD ABOVE EVENT FLYER
Please help us congraulate this year's Awards Recipients by purchasing an ad in our Awards Book.
The ads also help us to with our fundraising to support for our financial aid and scholarship programs.
CLICK HERE TO DOWNLOAD AWARDS BOOK AD ORDER FORM
CLICK HERE TO DOWNLOAD AWARDS BOOK AD SPECIFICATIONS
CLICK HERE TO DOWNLOAD "SHOUT OUTS" ORDER FORM
MORE DETAILS ON 2017 CANADIAN PICTURE PIONEERS AWARD RECIPIENTS
Pioneer of the Year
John Pedersen – Canadian Picture Pioneers British Columbia Trust Fund Liaison
Silver Spotlight Award Recipients
Jason Fulsom – Senior Vice President, General Manager – Universal Films Canada
Karen Hansen – Vice President Services de Programmation DenHur Inc., Co-Owner, La Maison du Cinema.
Michael Stewart – Senior Operations Manager – Canada Cinema Distribution
Diamond Spotlight Award Recipient
Barry Newstead – Vice President, General Manager – 20th Century Fox
Date/Time
Nov 15 2017
6:00 PM
Location
Westin Prince Hotel
900 York Mills Road
Toronto