SHOWCANADA OPENING NIGHT COCKTAILS & AWARDS – THE VIRTUAL EDITION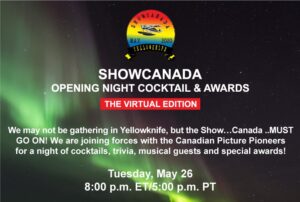 WIN ~ WIN ~ WIN
ENTER to win one of this year's special awards!
Choose a category/categories (you can enter as many categories as you like!), send a photo and description to [email protected], and you may be a winner! (make sure you put the award category in the subject line of the email)

1. Best culinary creation made in quarantine
2. Most inventive way to keep fit in quarantine (G or PG Rated!)
3. Best quarantine look
4. Best new parenting tip for quarantined kids
5. Most creative new skill learned while self-isolating
COME PREPARED
Special guest Tony Loschiavo of L-eat Catering will join us to demo our 2020 signature cocktail, THE AURORA.
Here's what you'll need to have on hand:
Vodka
Fresh Raspberries
Ginger Beer
Fresh Lime
Crushed ice (or cubes)
Fresh Mint for garnish
Support the Canadian Picture Pioneers Special Assistance Programs and meet us on ZOOM!
LINK FOR TRIVIA WEBSITE: crowd.live/FBGGB
LINK FOR ZOOM COCKTAIL PARTY with emcee Teri Hart: https://zoom.us/j/97238144679

$5 Suggested Donation – All proceeds will go to the Canadian Picture Pioneers.
To donate please visit CanadianPicturePioneers.ca and click on the "Donate" button.
(Canadian resident tax receipts will be provided for donations of $20 or more when address is provided.)
Suggested Dress Code: Quarantine Chic (OR whatever ya got on….)
You may need multiple devices or open multiple browser tabs if you want to join the Zoom session and to also play Trivia at the same time.
Map Unavailable
Date/Time
May 26 2020
8:00 PM
Location
On Line
none
YouTube